About Us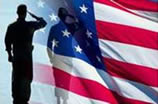 The credit union was founded in 1946 by employees of the Veterans Administration in Montgomery, Alabama.
Who can join?
Employees of Montgomery VA Regional Office
Employees of Montgomery VA Medical Center
Employees of Baptist Healthcare
Veterans
Family members of above
Membership in the credit union requires ownership of one or more shares of $25.00 each with a membership fee of $1.00. Interest is paid quarterly.